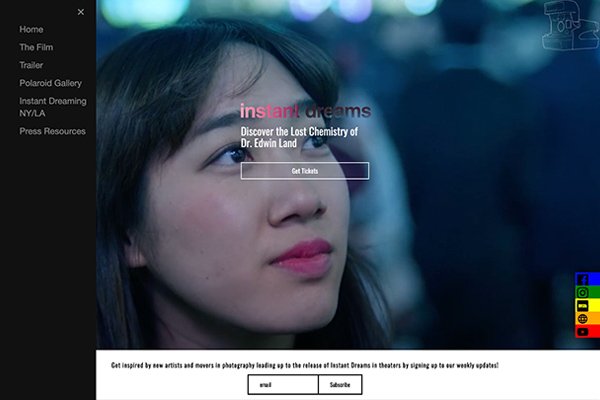 Instant Dreams
Modular marketing- Microsites
Challenge: Add new marketing tactics to a film's website in real time by creating new micro-sites with connecting links across all menus.
Background: Instant Dreams is a documentary about a group of scientist who are trying to unravel the chemical formula of the then-defunct Polaroid and the Polaroid-users eagerly awaiting its rebirth. Photography is a well-defined audience and there is a very active Polaroid culture online in Facebook groups, forums and Instagram. The people in the documentary were also at our disposal.
The project provided a lot of possibility. Since pursuing each one of those possibilities took time, money and buy in. I decided to pursue them as if buy-in was guaranteed and built out the actionable parts in real time.
Solution: I created a very basic micro-site with only the trailer, email sign-up and a basic press kit in the menu. As I got buy-in from artists, companies and theaters, I would create another microsite and add it to the side menu. This amalgamation of micro-sites created an effective re-marketing audience and allowed for Instant Dreams to cross promote different aspects of the film to potential viewers.